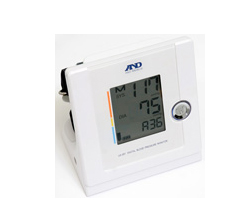 A&D UA-851 Blood Pressure Monitor
The UA-851 is a fully automatic blood pressure monitor, and with a lifetime warranty is excellent value for money.

Features
Large 3-line display
Irregular heartbeat indicator
Blood pressure classification indicator
Large 90 memory with average reading
Illuminated start button
Slimfit comfortable cuff (22-32cm)
Holder to store cuff when not in use
Lifetime warranty

Applications
Accuracy
Pressure: +/-3mmHg or 2% whichever is greater.
Pulse: 4/- 5%.
Measurement range
Pressure: 20-280mmHg.
Pulse: 40-200 beats per minute.