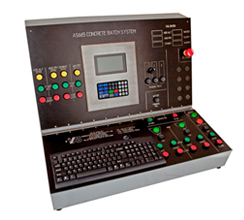 AS665 Concrete Batch Controller
Associated Scale Services has designed the new breed of batching controller.
With simple operator interface through a single device, the processing power is capable of controlling the weighing and water of a complete concrete batch plant.
The System utilizes the process control power of the GSE 665 weight controller with the ability to control up to 8 scales and 8 pulse inputs.
The weighing system can also be supplied with a customized control panel for the external buttons and switches integrate the operation for a complete batch plant.

Features
Maximum Load Restriction of Set point
Interlocks can be turned off and on if a sensor is faulty.
Simple update via a PC based programme.
Optional Ethernet capability
Totals for batches and material usage
Variation Reporting
Data Logging in a CSV File on a CF card for easy transfer to Excel
Reporting in Additives. Upto 7 Additives (no control only reporting)