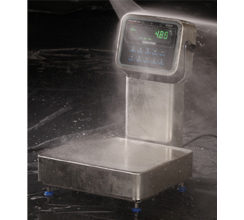 Avery Weigh-Tronix ZQ375 Bench Scale
(Rated at IP69K)
The ZQ375 Torsion Base Bench Scale has been designed as one of the most rugged scales ever to be manuafctured.
With 500% overload on the load base and IP69K environmental protection the ZQ375 has been built to last.
The Bench Scale also has connectability allowing communication from USB, Ethernet and RS232.
Finally a scale with it all.

Features
Ultra Fast Weighing- Stability in 0.5 seconds
IP69K Dustproof & Waterproof
500% Overload Protection on the Load Cell on Torsion System
Fully Stainless including the Load Cell
Comparator Function- Pack to preset targets
Analog Sweep Display - Ideal for target filling with a fast flowing product
Easily seen bright digit display - Low Powered IBN Display
Standard - Ethernet
Standard - USB
Standard - RS232
Optional - Wireless
Optional - USB Device
Simple Calibration

Applications
Meat Industry
Fishing Industry
Raw Product Packaging
Processed Vegetables
Chemical Industry
Filling Applications
Product Grading