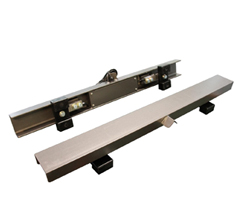 AM2406 Weigh Beams
The AM2406 Weigh Beams are designed for user flexibility at an economical price.
As Weigh Beams are mainly used for ease of transportation, the weight of less than 25kg complete is an asset.
The AM2406 Beams are design for a maximum capacity of 3000kg.
The feet used on the AM2406 are rectangular for greater stability.
A protective cover under the beams protects load cell cabling
Warranty for the AM2406 is 12 months from delivery

Features
Standard Size 1200mm.x 100mm per Beam

Custom sizes welcome as all manufacturing is performed within the Asscociated Manufacturing's factory

Material for beams

Mild Steel Painted
Optional Galvanized

Load Cells ( 4 of )

Tool Steel - ANYLOAD 563YH 1000kg (each load cell )

Foot design

Rectanglar shape for stability
Construction of Poly euothene

Weight Indicator can be specified dependant on requirements.