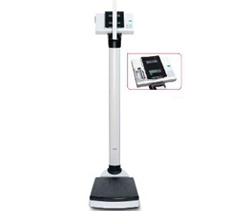 Seca 763 Personal Scale
With the innovative, electronic measuring station Seca 763, both the height and weight of a patient can be ascertained injust one step.
After measuring and weighing, both values are indicated on two LCDs integrated into the display panel. On the basis of these values, the Seca 763, at the touch of a button, automatically calculates the BMI of the patient.

Features
Column scales:
Capacity: 250 kg
Graduation: 50 g
Functions: TARE, HOLD, Auto-BMI, kg/lbs/sts switch-over
Transport castors
Optional: RS232 interface seca 460


Measuring rod:
Measuring range: 110 – 200 cm
Graduation: 1 mm