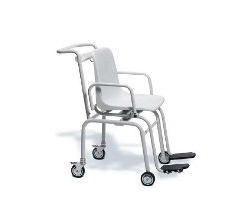 Seca 952 Chair Scale
Standing on a scale is a problem for physically disabled or older people. Chair scales are of great assistance to patients and medical staff in nursing homes, hospitals, geriatric and orthopedic departments.
The new seca 952 offers a sound, user-oriented solution with all the should offer.

Features
Capacity - 200 kg / 440 lbs / 32 sts
Graduation - 100 g / 0.2 lbs
Dimensions (WxHxD) - 565 x 920 x 810 mm
Device weight - approx. 24.5 kg
Power supply - batteries
Functions - TARE, HOLD, kg/lbs/sts switch-over