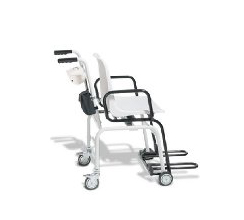 Seca 954 Chair Scale
A comfortable seat provides a safe position, the swiveling armrests make it easy to move the patient from the bed onto the chair scale and the fold-away footrests increase ease of operation.
The locking rear wheels ensure that it is safe to sit down and stand up at all times. The positioning of the large LCD unit behind the chair makes it easy to read and the many functions (including BMI) leave nothing to be desired.
This mobile chair scale, with AC adapter or rechargeable battery power supply, is an invaluable aid everywhere: in the rehabilitation center, orthopedic department, dialysis center, at nursing homes and in pediatrics and adolescent medicine.

Features
Capacity - 200 kg
Graduation - 100 g
Functions - Automatic switch-o , TARE, HOLD, BMI, kg/lbs/sts switch-over
Optional - Available with integrated PC or printer interface