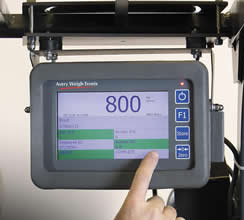 Forklift Truck Scale
The durability of the FLSC Scale Carriage is immediately apparent. The scale's patented design features two metal plates. The plates are coupled together by application-designed Avery Weigh-Tronix Weigh Bar weight sensors.
This design has no fixtures or springs that can affect weighing while the mast is tilted. The Weigh Bars electronically measure the load on the forks and convey this information to embedded summing and angle detection electronics.
Compiled digital information is then passed on to the in-cab indicator via a cable or optional wireless connection.
The entire carriage assembly is primed and finished with a high grade powder paint.

Features
29.5:1 Front loading safety factor
7.5:1 Normal load safety factor
300% Overload with no damage
2500 kg capacity
Aircraft-quality steel Weigh Bars
Fits ITA Class II cleated carriages
Fully calibrated at the factory
All electronic scale – no moving parts (flexures) to damage or break