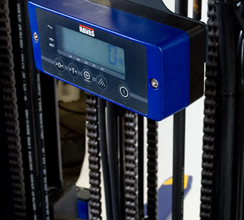 iFork Fork Lift Scale
Cascade have produced a fork lift system which allows for the simplest of installations and gives accuracies of up to 0.1%
This system is NTEP approved in the USA but currently does not have trade approvals in Australia.
This system will give close to platform scale accuracy which is far better then hydraulic systems.
Being a wireless system this iFork does not have the problematic issues of cables from the carriage to the weight indicator.

Features
Bright Back Lit 0.7 inch Dispaly (for the driver)
Manual and Automatic zero correction
Gross Net Weighing
Automatic Push Button Tare
Automatic Low Voltage shut off
Manual Tare entry totalling with sequence numbers
5 Digit ID code entry
Internal Clock