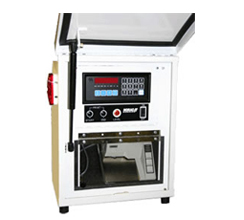 NORAC Onboard Weighing System
Weigh Anywhere
All NORAC's OnBoard™ Weighing Systems can weigh on slopes up to six degrees off-level. Perfectly level ground is not required to get legal-for-trade accurate results.
Improve Business Accuracy
By adding a legal-for-trade scale to your existing delivery or collection system you eliminate the guesswork from charging "by the container" or other volume-types of measurements. Accurately weighing and billing for the materials delivered or collected will improve business efficiency while improving overall customer satisfaction.
Conveniently Mounted Display and Printer
The OnBoard™ Control Center is conveniently mounted on the exterior of your transportation frame so that all transactions are easily viewed by the operator. The weatherproof enclosure protects the instrumentation and printer, for years of trouble free use. A legal ticket can be printed for your records.

Features
Lift scale to weigh position
Pull in hydraulic lever for a few seconds and you are ready to weigh.
Printer will record
Truck ID
Time and date
Starting Weight
Deliver Product
Press 'End' button; printer will record
Weight of product loaded or unloaded
Lower the scale to transport position.
Push on hydraulic lever to lock unit for transport.