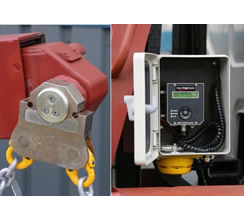 Onboard Weighing Skip : Avery Weigh-Tronix
The Avery Weigh-Tronix onboard skip weighing system has been developed in partnership with one of the UK's most experienced onboard weighing specialists.
Taking the lead, Avery Weigh-Tronix is bringing to the market an unrivaled combination of technology, quality and after sales support.
Currently not for trade weight use in Australia.

Features
Cable
Two wire data transmission
Custom made flat twin cable and IDC assembly
Connections sealed to IP68; end cap seals for ingress protection
Clamp tool for IDC assembly
Digital data transmission is polarity and moisture insensitive Skip cell specification
Custom made digital load cell
Internal decoder with LED feature
2 cells supplied per system
Electroplate finish for metal protection
Triple sealed for environmental protection
Excitation: powered by the indicator
Designed to meet EMC emission regulations
Audible alarm which sounds if lifting a laden skip will cause the truck to exceed its GVW