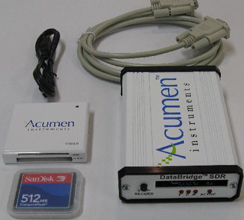 Serial Data Logger (Paperless Printer)
SDR2-CF is the ideal tool to log data from any serial device — a low-power, ready-to-run alternative to embedded PCs and single-board computers.

Features
Low Power - Less than 100mW idle; 250mW in low power record mode.
Easy to Deploy - Configuration via HyperTerminal for fast, simple setup. No development time or special software to add hidden costs.
Powerful Feature Set - Choose to timestamp incoming data, output query messages, configure for serial passthrough, and much more.
Robust Power Supply - Flexible 5-30V input range. SuperCapacitor holdup circuit prevents data corruption if power is lost while recording.
High Speed Data Processing - Log continuous streaming input from 40 bps to 960.8 kbps.
Large Storage Capacity - Use memory cards up to 64GB; records in FAT16/FAT32 for easy data retreival & processing.
Compact & Durable - Extruded aluminum enclosure. 5" x 3.4" x 1.3" (13cm x 8.6cm x 3.2cm)
Flexible Interface - Connect directly to RS-232 sources via standard DB9 connector. Logs RS-485, RS-422, ARINC-429 with addition of simple converter.