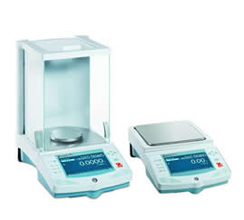 Ohaus Explorer and Voyager Pro
Ohaus Explorer® Pro and Voyager® Pro balances, the new standard for performance and value in laboratory balances!
The Ohaus Explorer Pro and Voyager Pro balances were designed for simplicity and include the industry 's easiest user interface for effortless setup and operation; no training is required.
Explorer Pro offers all the features and durability found in high-end laboratory balances, while Voyager® Pro's Advanced Applications simplify even the most complex laboratory measurements. Plus both balances come with traditional Ohaus quality and support for years of trouble free use!

Features
Brilliant backlit high resolution dot matrix display with simple navigation windows and menus to guide you through balance functions
Five operating languages— English, Spanish, French, German, Italian
AutoCalTM Automatic Internal Calibration system (standard on Voyager Pro, optional on Explorer Pro)
User selectable GLP/GMP outputs via RS232 to meet traceability requirements
EC Type Approved models available
Weigh-below hook for below-balance weighing applications
Protective in-use cover and security bracket