Fork Lift Scales | Solutions for saving money and increasing efficiency
Every additional activity when moving goods adds time, cost and opportunities for risk. By employing modern Fork Lift Scales, you take away at least one step in the goods chain process.
In distribution and warehousing, quality, reliable, accurate fork lift scales reduce the loss of revenue when determining optimum loads, this ensures the minimum number of movements required to move the load, thus reducing cost without inserting an additional step in the process.
So when reviewing your onboard systems, instead of a standard fork lift you can have a precision mobile weigher. The forklift weigher is an invaluable tool at busy farms, warehouses and storage depots.
As well as providing weight data on loaded pallets, it can offer an enormous benefit to duty of care responsibilities. Using the forklift scales enables operators to check the weight of goods being removed from trucks before actually lifting the load off the truck. This ensures the forklift does not attempt to lift something above its maximum load weight, reducing risk of tipping and injuring the operator.
view full range of Onboard weighting systems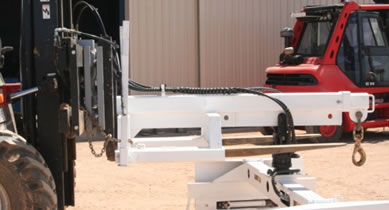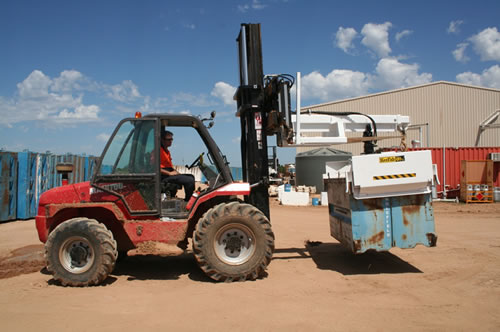 The fork lift weighing system is also able to improve load positioning in freight trucks, reducing roll and inertial accidents caused by improper weight distribution. The operator can easily see the weight displayed and can capture the legal-for-trade weight without having to add any additional steps to their process.
A key to reducing time wastage and thus revenue leakage is the concept of weigh as you load: load the optimal amount accurately and efficiently in one step weighing, no need to go to a secondary source for weight.
The latest project completed by Associated Scale Services entailed installing the first of many high capacity fork lift weighing system for the agricultural industry for rural Australia. The system has been installed to track both products being harvest from farms, as well as allowing correct truck loading. This system, from the customer's records will pay for itself within the first harvest due to time saving and keeping with the stringent truck loading regulations.
The QTLSC 5000kg class IV has been installed on a forklift system whereby bins can be picked up from the harvester and can be taken back to a waiting truck for immediate dispatch. The FL425 has a custom program to facilitate total for the truck, customer and shifts. This can then be easily transferred to a PC at the office for tracking the records of the produce.
The system was simply installed by the customer with Andrew Shaw of Associated Scale Services to oversee the fitting as well as to programme the FL425 for the customer's needs whilst on site.