If in doubt speak to the professionals at Associated Scale Service for advise
The Associated Scale Services Pty Ltd was established in 1991, primarily for the weighing industries. As one of the largest industrial weighing companies in Queensland, Australia, the Associated Scales Services Pty Ltd expanded from Scale Service and Manufacturing to Metrology in the year 2000. In 2011 the company has grown to over 16 staff with more to be added in the immediate future.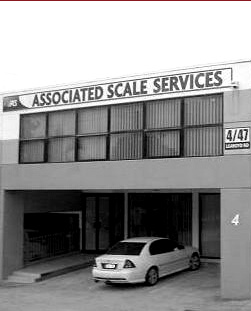 About Us
Scales & Service
With the aid of A&D Weighing (Australia's largest scale supplier) and international companies as GSE Scales, Avery Weigh-Tronix and Anyload (Load Cells), Associated Scale Service prides itself on having the most sophisticated and price compeditive range of equipment to ensure all weighing and process controll requirements are met.
Having one of the largest stores of weighing scales and components allows pricing to be exremely compeditive and availability of these items, in most cases, same day dispatch.
The business has now developed through these three divisions to give a one stop shop in the calibration, reporting and supply of the measuring device market and intergraded services.
Over the recent year, we have expanded to two separate facilities, a Manufacturing Workshop, and an Office/Store. This means we have more abilities to efficiently aid your needs.
With an ever expanding experience pool from highly qualified staff and the alliances with some of the most renowned local and international supply companies, The Associated Scale Services Pty Ltd is a company that can be trusted to serve your present and future needs.
Associated Group of Companies prides itself in developing markets around Australian and the greater Oceania.
If in doubt speak to the professionals at Associated Scale Service for advise.