Associated Calibrations provides an independent calibration and repair service
Associated Calibrations provids an independent calibration and repair service of Test and Measurement Devices to Industry, including the Manufacturing & Services, Aviation, Rubber, Paint & Automotive industries.
Precision, Analytical Balances
Temperature (Thermometers, Temperature Controllers, - On site and in Associated Scales Laboratory)
Torque Devices (ie Torque Wrenches etc)
Pressure (Pressure Gauges etc)
Voltage, Current (Multi Meters, Electrical Test Equipment)
Linear Measuring (Micrometers, Verniers - Internal and External etc)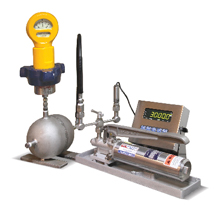 Associated Calibrations
Independent calibration and repair service
Whether it is Calibration, Sales, Services or Repairs to meet your ISO9000 or QS 9000 Quality System Requirements, we can assist you in attaining absolute confidence in your measurements.
In our own premises, we have constructed a new Laboratory with temperature control of +/- 1 degree Celsius.
Associated Calibrations highly qualified staff in the field of Metrology have 30 years experience which is directly passed on to you, our customer, in Quality & Professional Work Ethics.
Associated Calibrations has a long term commitment to the Industry. Your company is able to depend on us for all your future Quality Assurance needs in Calibration, Service, Repairs, Sales and Training.
Associated Calibrations for Calibrations, Report and Audit Trails
Including: Balances, Force Equipment, Pressure Equipment, Temperature, Linear Measuring, and Electrical Test Equipment.