Platform scales are the answer to safely assessing correct weights.
Accurate weighing is an essential task for many industries. From transport and logistics to medical scales for the wheelchair bound to standard pallet scales,
platform scales are the answer to safely assessing correct weights.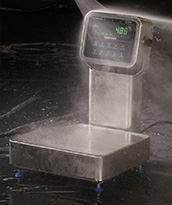 Platform Scales Features
High capacity and floor mounted scales
Typically, platform scales are a top loading scale similar to bench scales. Where they differ with bench scales is that they can be of a higher capacity and are floor mounted. The obvious benefit of this is to enable objects to be directly wheeled onto the scale, and generally take a greater weight.
Platform scales are made with industrial strength and depending on the version, are made to withstand the rigours of the real industrial world. For example, A&D HW High capacity platform scales have capacities up to 600kg.
Floating deck platform scales are designed to prevent side loads causing damage to load cells, they work well where there are multiple forklifts and collisions could be encountered regularly.
Drop centre platform scales are designed for pallet jacks, trolleys and tubs on wheels so that a low ramp can be used getting materials easily on and off.
Overhead platform scales are for extremely wet areas. When a load cell is submerged regularly in water, most will cease accurate operation. By having the load cell positioned above the platform, this stops water getting in to damage the cell. Similarly, having the load cell at the top, removes the risk of inaccurate weighing should the platform and object be buoyed by water below, interfering with the weighing action.
Platform scale designs are very flexible with solutions for most environments. Aluminium platform scales are created extremely lightweight so they can be moved by one person whilst maintaining integral strength. Weigh beams are similarly light (less than 25kg) which makes them very transportable but still stable and an economical solution.
If moving a pallet is not your choice, pallet jack scales allow you to accurately measure the weight of the pallet load without having to take the load to a fixed scale.
Platform Scales Extras
No matter what the task, Associated Scale Services is able to custom manufacture or supply standard platform scales to suit your need. Being an Australian manufacturer as well as a reseller of quality scales, you are assured of accuracy, support and service long after the initial sale is made.
Additionally, calibration of your platform scale is available and performed by Associated Scale Services themselves, and they are fully equipped to perform all calibrations in house or at your location without having to outsource.
For custom built platform weighing systems, Associated Scale Services have a history of successful applications for 'Trade Approval' from the National Measurement Institute.
Platform scales can be the perfect commercial decision for many industrial applications. There are so many varieties to choose from once you determine your need. Associated Scale Services carry and manufacture a design certain to be the solution to your problem.