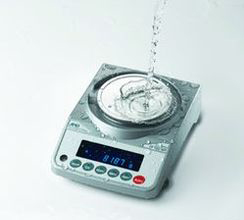 A&D FX-i WP
The arrival of the FXi-WP signals a new era for A&D Mercury where we can now offer a precision top loading balance with laboratory level performance suitable for use in hostile environments to an IP-65 standard.

Features
IP65
Compact B5 size
Fast stabilization speed - Just 1 second
Large bright Vacuum Fluorescent Display
Shock absorber function
Statistical calculation function
Multiple weighing units
GLP, GMP, GCP, ISO compliant
Digital Calibration Function
Comparator function
Buzzer function
Hold function for Animal weighing application
Counting function with ACAI ( Automatic Counting Accuracy Improvement)
Capacity indicator function
Percent mode function
Auto Power ON function
Auto Power OFF function
Built-in Rechargeable Battery
Under hook for suspended weighing
Adjustable foot
RS232 Data Interface- RS 232C Interface is standard on the FXi-WP range

Applications
The FX-iWP will be completely at home in any area where moisture or dust would prove a barrier to a normal top pan precision balance.
The balance is immune to product spillages both wet and dry and has the rugged performance to to cope with even the toughest environment. A high quality balance that can be used almost anywhere.