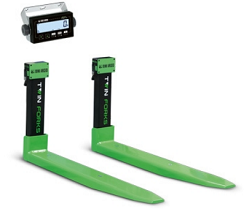 Dini Argeo Twin Forks
New weighing forks for forklifts complete with COMPACT indicator to red the weight directly from the cabin. Innovative 5.0 Bluetooth technology with low consumption and working autonomy up to 90 hours. Power supply through rechargeable lithium-ion battery.

Features
WHY PICK DINI ARGEO TWIN FORKS?
They are the easiest and most versatile solution to turn your forklift into a mobile scale.
Easy to install and remove for use on multiple forklifts
Lithium battery and low-power Bluetooth connection ensure long working autonomy
Weight Indicator with 25 mm backlit display, compact and easy-to-install inside the cabin.
Standard accelerometer for automatic start-up of the forks when moving.
Built with 4 Dini Argeo load cells, in stainless steel, approved, with IP68 protection to guarantee the best weighing performance.
Available also in approved version for legal-for-trade use.