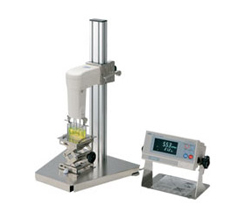 Viscosity Meter : A&D SV-10 / SV-100 Vibro Viscometers
Revolutionary range of viscometer featuring the vibrating tuning fork measurement method.
The SV Series provides a fast highly accurate result and is simple to use. Ideal for non Newtonian products particularly those with a volatile nature. Two models are available with 10,000cP and 100,000cP Capacity.
Newly developed Tuning-fork Vibration Method* promises you high accuracy and wide measurement range without replacing sensor plates!! *Patent pending.
Sine-wave Vibro Viscometer SV-10 / SV-100 measures viscosity by detecting the driving electric current necessary to resonate the two sensor plates at constant frequency of 30Hz and amplitude of less than 1mm.

Features
Very small sample size: The SV-1A requires a sample volume of only 2ml (SV-10A: 10ml or more) so users do not waste any samples and can save costs.
Titanium sensor plates: Anti-corrosive, titanium (JIS Class 2) sensor plates, which are resistant to chemical substances.
X-Y-Z stage: Fine position adjustment of the sample cup in three axial directions
Detachable sensor unit: The sensor unit can be detached from the stand and conveniently used for field research purposes.
Standard carrying case: A portable carrying case is provided as standard for field research purposes.
Auto hold function: When the change of the displayed viscosity value is within the stabilization range for a fixed period of averaging time, the Stability value is set to hold. This function is useful when measuring in the field.
Software: Standard WinCT-Viscosity software & serial-USB converter