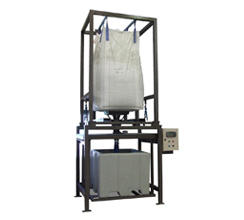 ASBB04 Bulka Bag Dispensing Station
(Trade Approved)
The Bulka Bag dispensing station is designed to batch directly out of a bulk bag.
The outlet can be design to either fill containers (as shown in picture) or attached to a bagging system to package smaller bags.

Features
The Bulka Bag Dispensing Station is a fully batch controll system to allow Bulk Bags to be emptied in desired values. The system can be customize to utilize existing systems to dispence into or can be designed around new processes.
The top frame is removalbe to allow the bulk bags to be safely attached and is then re fitted to the top of the frame. Saftely catches are used to prevent the top from from being removed without due cause.
The sytem is PLC controlled to allow for current and future requirements.