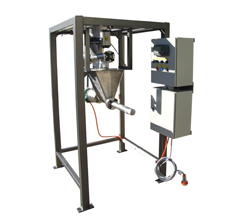 ASVB Valve Bag Filling Station
The system is designed around optaining both the High Speed and High Acucracy.
Customizing for specific applications is essential for the optimum performance. This is acheived as Associated Scale Services Pty Ltd both design and manufacture these units.

Features
Systems consist of
Auger Bag Filling
Auger Weight Topup System
Full Stainless Steel for any component in contact with Products
Variable Speed Drives for Both Augers
PLC Control with Industrial Weight Septoint Indicator
Weighing System raised to the top of the frame to minimize accidental operator interference of the weighign cycle
System can be designed for customers bag weights and product type
Bag filling cycle: 35-40 seconds with an accuracy or 20-30g on a 25kg bag.