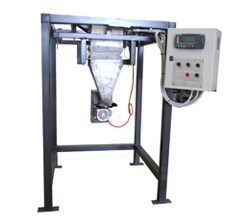 ASOB Bag Filling Station – Open Mouth Bags
The ASOB bagging system is designed primarily for filling open mouth type bags.
The system is gravity controlled utilizing a fully programmable industrial weight controller to ensure not only a quick bag fill but with high accuracy.
The ASOB is manufactured in Australia by Associated Scale Services Pty Ltd.

Features
The ASOB has a simple operator interface for both inputting data and to explain where the stage of the process
Fully stainless construction on all components that touch the product to prevent contamination
GSE 465 controller controls the frequency of the speed with respect to the filling stages well as jogging for hi accuracy
Option for Load Cells are custom design specifically for this operation (floating system)
Capacity - 25kg (can be designed around other capacities)
Material - Stainless Steel for items that touch producto, Mild Steel for all other (can be completely stainless steel as seen in the above picture)
Power - Single Phase 240VAC (Compressed Air Required)
Bagging Speed - 20 - 45seconds depending on required accuracy