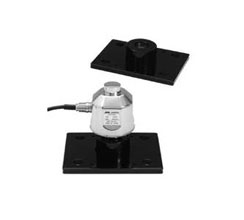 A&D LCC11 Canister Load Cell
The A&D Mercury LCC11 load cell is primarily for both the weigh bridge market and the large silo weighing system.
3 Models available with 10, 20 and 30 tonne capacities. Trade approved. Stainless steel compression canister type. supplied with upper and lower mountings. Easy installation. Low Profile.

Features
Hermetically sealed, stainless steel, construction compression load cell
Advanced load design for tanks, hoppers and Truck scales
Maximum safe overload 200% of rated capacity
Compensated temperature range -20~+60 degrees C
Supplied with mild steel top and bottom mounting plates
Dustproof / waterproof to IP-67
Input resistance 800 ± 30 ohms
Output resistance 2200 ± 10 ohms
Cable length 12metres
N.S.C. Approved, Certificate No. S410