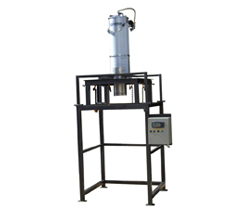 ASBB Bulka Bag Filling Station
(Trade Approved)
Bulka Bag Filling Station allows for bulk bags to be filled accurately to a desired weight.
The system shown in the photo has a vacumm product transfer system but the system will attach to any silo, holding vessel or transfer system.

Features
Control on this system is dependant on the controls requred to run the prodcut transfer. PLC control is the most comon as ths give a higher accuracy and far more flexibility for any future requirements.
The weighing system is mounted at the top of the frame to prevent spillage from causing weighing errors as well as giving a more accurate result as the only item requiring to be tared is the actual bag.
In Australia, this system is a fully trade approve system allowing the resultant weight reading to be used for sale.