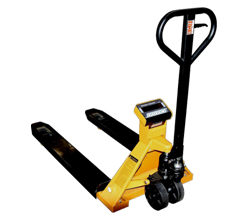 NPS Pallet Jack Scale
The NPS pallet jack scale is not just a pallet jack with load cells fitted, the design is based on a scale integrated with a pallet jack.
Incorporating the ANYLOAD 563YHTH Shear Beam in the NPS68H, this pallet jack is designed to offer mobile accurate weight readings.

Features
Capacity 2t
Comes in both Mild Steel and Stainless Steel
Designed with an integrated weighing system which negates the need for a slipper over the tynes. Keeps the tynes low for easy use.