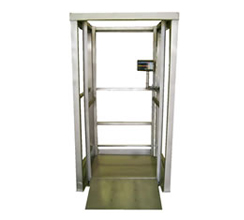 PB3000RW Over Head Platform Scales
The PB3000 Platform Scale is designed for Extreme Wet Environments where the system is continuously around water. In the case of pitted platform scales, the pit drain can be blocked and the load cells can be damaged by being submerged.
Weighing errors are also introduced by the water level. The PB3000RW has the weighing system above the platform thus reducing the affect of these issues.

Features
Standard Size 1200mm.x 1200mm
Customized Sizes welcome
Options for material for platform are
Stainless Steel
Option for Load Cells are
Specified on order
2 piece construction with a true floating deck
Selection of weight indicators available
Trade and Non Trade versions available