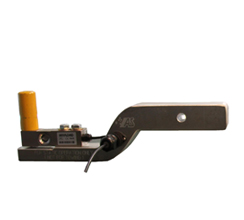 Tow Ball Tester AM2507AL
Assosciated Scale Service has developed and manufactured a simple weighing system for testing the weight of the load on a tow ball.
Manufactured from a solid billet of Aluminium the system is light and very simple to use. This device is for the use of tow ball tongue that are fitted through a 50mm square tube.
Safety is paramount with Towing and knowing the weight on the tow ball ensures that the weight
is within the specifications of the vehicle and attachments.

Features
600kg x 1kg
Weight of the Tow Ball System - 3.8kg
12VDC power - Lead Supplied to access 12V from the vehicle
25mm Display
50mm Tube Type installation
System fully calibrated
Warranty: 12 months from Delivery