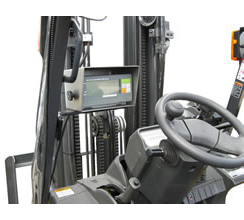 Fork Lift Scale
Associated Scale Services designs weighing systems for fork lift scales.
These system are quoted for the customer needs to ensure the correct devices is supplied for the correct application.
Please contact the sales representative for further information on (07)3272 0077.

Features
The system is standard with the A&D 4406 weight indicator. Used extensively in industrial application
Option Data Logging system to record the weights. Memory Storage 500MEG. File type is CSV which can easily be imported into Excel.
This system is common for most application.
Warranty for the Fork Lift Scales is 12 months from delivery.

Applications
Dry Area Use (for inside warehouse use)
Wet Area Use (for external use) Stainless Steel Instruments Used
Quality Assurance Use - Data Loggers are installed
Capacities are varied dependent on fork lifts