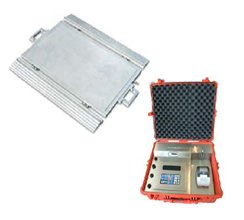 Axle Weigh Pad 10t/30t
Ultra thin weigh pad design. As low as 19mm High for the 10t pad.
Easily mounted Ramps.
Hermetically sealed to suit different environments.
Can be used to measure axle weight and whole vehicle weight when two or four weigh-pads are connected together.

Features
Net weigh for individual pads
10t Pad - 10kg
30t Pad - 30kg

Applications
The Axle weigh pads have been design to give accurate and constant weights. As the height of the pads is only19mm (10t Pad) 21.5mm (30t Pad) errors due to movements in suspension is reduced.
For a more accurate reading packing for the remanding axles is available.
Control boxes come in a varied design for different applications.
For reading an axle only a simple weigh indicator is all that is required
If a printer is required then a boxed system can be assembled. Data loggers can also be used where a paperless system is preferred.
Multi axle weighing, where each axle can be seen as well as a total of the axles is easily designed.


Each system is designed around your needs and still at an affordable price.