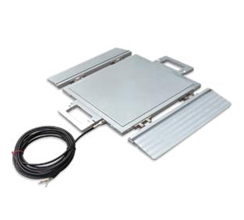 Axle Weigh Pad 2t
Ultra thin weigh pad design. 18mm High
Easily mounted Ramps.
Hermetically sealed to suit different environments.
Can be used to measure axle weight and whole vehicle weight when two or four weigh-pads are connected together.

Features
Capacity - 2t per pad (if 10t or 40t are require refer to sale for brochure)
Construction of Pads - Aluminum Alloy
Net weight of pads 2t Pad - 10kg
Option for Controller/Read Out
Single weight for the addition of all pads
Control Box with printer for individual weights and summing of pads is available.