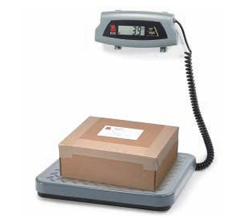 OHAUS SD SERIES
The OHAUS SD is a robust portable bench scale designed specifically with affordability, utility and everyday usage in mind.
Ideal for home office, mail room, shipping and receiving, and general commercial and industrial weighing applications, the model SD features durable painted steel treaded and non-treaded platforms, a remote indicator with two tactile function keys, battery operation and flexible mounting capabilities.
The OHAUS model SD is your efficient solution to a variety of weighing needs, when you need it, where you need it.

Features
Now with Dynamic weighing functionality
3 popular capacity models: 77lb/35kg, 165lb/75kg, 440lb/200kg
2 platform sizes: 12.4 x 11 inches and 20.5 x 15.7 inches
Maximum displayed resolutions from 1:1,750 to 1:2,200
ABS plastic indicator housing with reinforced ribs
Universal table/wall mounting brackets included
Flexible coiled cable, extendable to 108 inches
Painted steel platforms with raised embossed treads (SD35, SD75 and SD200 models)
Rubber feet (adjustable on SD75L and SD200L models)
LCD with fast weight display in lb or kg
Raised tactile keys
AC adapter (included) or 360 hour battery operation with Auto-Shut Off feature
Calibration in lb or kg
Carry handle on packaging (non-Lmodels) for ease of portability