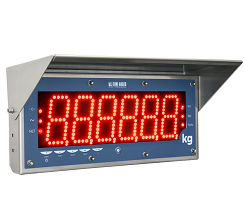 DINI ARGEO MAXI WEIGHT INDICATOR AND REMOTE DISPLAY
Weight indicator/remote display with large matrix display composed of very intense LEDs. Particularly suitable for outdoor uses, it is clearly visible even in full sunlight and where it's necessary to view from a distance at any angle. Case completely in OP68 stainless steel.

Features
Functional 5-key waterproof keypad.
Large 6-digit display, 100mm high with very efficient SMD LEDs, complete of 6 LEDs for indication of active functions, visible from over 25m.
Software adjustment of the brightness intensity by keyboard
AISI 304 stainless steel case with IP68 protection complete of wall fixing bracket.
fitted with an anticondensation air value for regulating the humidity and the pressure inside the indicator
A/D 24 bit sigma-delta 4-channel conversion, max.400 conv./sec, with automatic selection.
Connectable with up to 8 analogue load cell with 350 Ohm input resistance.
Management of a weighing system with up to 4 cells with digital equalisation or management of up to 4 independent weighing systems.