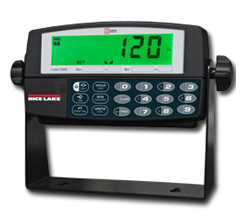 Rice Lake 120 Plus Digital Weight Indicator
For offices, bench tops, or other dry work environments, the 120 Plus provides plenty of function for everyday weighing.
A durable plastic enclosure showcases the attractive and easy-to-read backlit LCD display along with a full keypad for quick configuration.
Two internal set points, battery operation and time & date function round out the 120 Plus's impressive set of features.

Features
Large .8" LCD display with back light
Powered with rechargeable battery or wall adapter
Power save feature for 700 hours of battery life
Two setpoints with delay and timer selections
Three digital inputs
Ten stored tare values
Display hold (based on 3 second average)
Body mass index (BMI) function
Time and date (volatile)