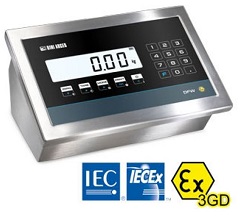 DINI ARGEO DFW-IECEX3GD INDICATOR
This weight indicator has the IECEx certification, a new enclosure with screw less front closure for easy cleaning of the indicator.

Features
17-key high thickness waterproof keyboard
LCD display with backlight as standard with 6 25mm digits.
Satin IP68 stainless steel enclosure.
Suitable for use on the table, column or wall.
Dimensions: 280 x 143 x 185mm.
Up to 1.000.000 displayable divisions for internal factory use.
Up to 8 signal linearization points with DINITOOLS (3 from the keyboard)
Internal resolution up to 3.000.000 points.
24-bit sigma-delta A/D converter, up to 200 conv./sec. with automatic frequency selection.
Board protection case inside the box.
Calibration and digital Set-Up from the keyboard.
Instrument management and configuration from PC with DINITOOLS
4 channels (for single weighing system)
Power supply from 110-240Vac line or 12-24 Vdc Max. 25.2W (optional power cable).
Connection with up to 8 load cells pf 350 Ohm.