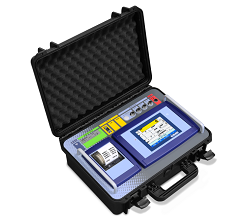 DINI ARGEO TOUCH SCREEN WEIGHT INDICATOR
(W/ TRANSPORT CASE)
Digital weight indicator with a big touch screen display, suitable for the weighing of vehicles, planes and objects with multiple points of support. It allows the visualization of all the weighing data and the customization of the screens, simplifying the user operations. Fitted with 3 serial ports, transmission protocols for data communication, completely configurable printouts, integrated alibi memory, and port for connection to barcode/badge reader.

Features
ABS transport case, with housing for the indicator and space for extra accessories.
3950ET series indicator fit in a metallic rack type involucre with dimensions of 270x440mm, complete of housing for printer, connectors for platforms.
Backlit graphic display with touch screen technology, lxh = 120x90mm size. Screens completely customisable.
Multilanguage software.
Fitted with attached thermal printer
Real time clock and permanent data storage.