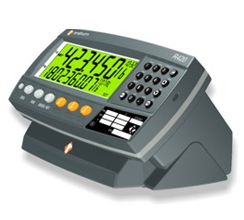 Rinstrum R420 Series Indicators (NMI Approved for trade use)
(NMI approved in Australia for trade use)
The R420-K402 indicator is a comprehensive general purpose indicator designed with both the installer and operator in mind.
Modules include: additional serial options, input/outputs, analogue outputs, external buttons and battery or AC option.
Powerful product configuration allows for parameters like setpoint targets, piece weights and units conversions to be stored for each product.
Operator friendly, with a large two line display using logical prompts, and dedicated and programmable function keys. Printing can be tailored with custom record, docket or reports printouts.
Applications: Weighbridges, Floor scales, Goods
receiving and shipping, Parts counting, Silo weighing
and Process control

Features
Counting with Piece Weight Entry
Clock Calendar, 4/6 Wire
Custom Unit Switching, Hold & Peak Hold
Custom Printing, Auto Output
Optional extra Serial Ports
Optional Analogue Output